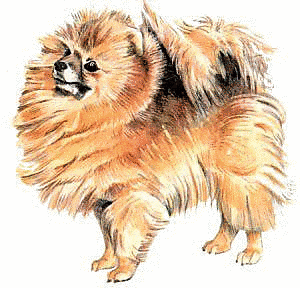 My family and I are new to the Pomeranian Breeding business.
We are located in Sand Springs, Oklahoma.
We chose to call our Pomeranian Kennel Poms R Us.
We got started in this business because of my Great-Aunt Inez. She gave us our first 6 pomeranians (Mator, Tiny, Sweet Pea, Blaze, Honey Bun, and Spot) in the summer time (2008) and had asked us if anything happened to her if we would mind taking her other 'kids' so she would know they would be loved and well cared for....
Of course we agreed. But none of us expected that day to arrive any time soon.
We welcomed our first litter of puppies on October 30th. Tiny was sent to us expecting. Our Tedd E. Bear and Nikki Sixx were born. We lost Nikki at 4 weeks old.... she stopped growing and was so little. The vet thought maybe she didn't form right.... As it is, we have our lil' Nikki Sixx to watch over our new pups. Nikki had 6 toes on each back foot....
My Great-Aunt Inez passed away December 28th, 2008. We took charge of her 'kids' as she called her Pomeranians at that time. It has taken alot of love and patience to win over their hearts.
My Great-Aunt lived alone except her Pom kids. So these 12 new additions to our home were only used to one person taking care of them.... I'm sure it was a big difference to having four people who loved them uncondtionally.
One of the pomeranians that we have of hers was pregnant at the time. We did not know this, as she and I had talked about Diamond and she said she was surprised that the pregnancy didn't take.... January 18th, 2009... Diamond welcomed 3 squirming puppies. 2 boys and a girl.
Our Pomeranians are an unexpected blessing to our family.
And we dedicate our business of raising wonderful Pomeranians in loving memory of Aunt Inez.
At this time we do not offer shipping of our puppies.